Community Profile

Free Account
Created on 2013-01-06 06:15:52 (#1908373), last updated 2014-06-04 (172 weeks ago)
82,245 comments received
2,631 Journal Entries, 166 Tags, 0 Memories, 1 Icon

About
| | |
| --- | --- |
| Name: | House of Cards |
| | |
| | |
| Membership: | Moderated |
| Posting Access: | All Members |
| | |

Mini Bio
House of Cards is a community-based dressing room for Original Characters set in modern-day alternate universe. Check out the links below for more information. Prose "canon" posts, SWS-style posts, and AU meme-type posts are all welcome here.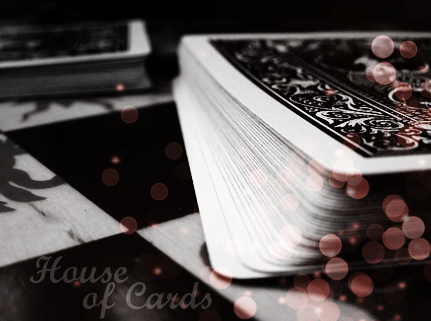 A deck of cards is built like the purest of hierarchies...


In a place secluded from the world by ancient, forgotten magic is a society like none other. The rank and file of day to day life is filled with the wonder of an age long past, but peppered by the influence of the modern world; where intrigue is taught from a young age and lies are served with tea.

It is a society built on old traditions and esoteric rules. Here Kings and Queens still reign over their Suits and everyone has an agenda. Where Spades look over their shoulders, Hearts play coy, Diamonds glimmer like ice, and Clubs worry that the death of one king is but the beginning. This is The Deck.



...with every card a master to those below it.

//LINKS//
Premise // Rules // Additional Info
Taken Characters // Join Us! // Wanted
Mod Journal // IC Journal // OOC Journal


Administrators

Members (62):
allthesamemask
,
alwaysmessedup
,
alwaysopportunities
,
askmenosecrets
,
blackorlov
,
bluntforces
,
butneverbreak
,
cipherspeak
,
cutslikeaspade
,
denythyfather
,
diamondonhissleeve
,
diemwnt
,
dj_shuffle
,
dreamsofwords
,
dum_spiro_servio
,
expluribus
,
falsepretences
,
fiddlerjohnny
,
flightylark
,
gotyourheart
,
hamelinic
,
headfollowheart
,
heartbreakclub
,
heartsandminds
,
heartshy
,
heartsofdarkgrey
,
hey_sexy_latte
,
holdsmyheart
,
hommesadique
,
houseofcardsmod
,
inkedstudy
,
intotherough
,
isadisease
,
ishineon
,
likemarilynsaid
,
longingforthenight
,
lowtohigh
,
messire_messer
,
moncoeur
,
morewaystoshine
,
old_dog
,
oneirophiliac
,
piqued
,
rumourhasit
,
sharperseason
,
sirforawhile
,
somuchheart
,
spectroscopy
,
spysinspades
,
standlikestone
,
tamethewind
,
the_songbird
,
the_zealot
,
theacethatmatters
,
thecutdiamond
,
thepupthatmatters
,
uncutclarity
,
upcardjack
,
wascomplicit
,
wilderhearts
,
wiredspade
,
withinthedark

Subscribers (99):
a_sudden_change
,
aboysbestfriend
,
allthesamemask
,
alwaysmessedup
,
alwaysopportunities
,
askmenosecrets
,
belowcastle
,
bitchwithabite
,
blackorlov
,
bluntforces
,
butneverbreak
,
cariad_tywyll
,
cipherspeak
,
civilizedpoison
,
cutslikeaspade
,
denythyfather
,
diamondonhissleeve
,
diemwnt
,
dj_shuffle
,
dreamsofwords
,
dum_spiro_servio
,
dysphoria_abounds
,
escapeandevade
,
eucre
,
expluribus
,
facetsofice
,
falsepretences
,
fiddlerjohnny
,
fireblown
,
flightylark
,
gardenplots
,
gotyourheart
,
grrranimals
,
hamelinic
,
headfollowheart
,
heartbreakclub
,
heartsandminds
,
heartshy
,
heartsofdarkgrey
,
heartvestment
,
hey_sexy_latte
,
hisnursemaid
,
holdsmyheart
,
hommesadique
,
houseofcardsmod
,
inkedstudy
,
intherightplace
,
intolerantly
,
intotherough
,
isadisease
,
ishineon
,
itsybitsyrigby
,
jack_of_trades
,
jokeswithknives
,
karatofquality
,
likemarilynsaid
,
longingforthenight
,
lowtohigh
,
maidenthespade
,
makeminerubies
,
maskofhearts
,
messire_messer
,
mightbedrunk
,
moncoeur
,
morallydefunct
,
morewaystoshine
,
old_dog
,
oneirophiliac
,
onlytolerable
,
piqued
,
rarelight
,
rumourhasit
,
sharperseason
,
simondsareforever
,
sirforawhile
,
somuchheart
,
spectroscopy
,
spin_a_yarn
,
spysinspades
,
standlikestone
,
tamethewind
,
the_songbird
,
the_zealot
,
theacethatmatters
,
thecutdiamond
,
thepupthatmatters
,
threecardmonty
,
uncutclarity
,
unsungheart
,
upcardjack
,
wannabeprincess
,
wascomplicit
,
wavekissedheart
,
wherethewild
,
wilderhearts
,
wiredspade
,
withinthedark
,
wouldbetrump
,
yourcupoftea

Linking
To link to this user, copy this code:
On Dreamwidth:
Elsewhere: